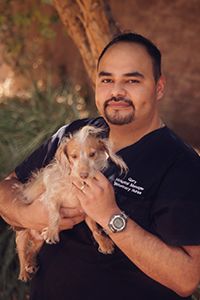 My name is Gary. Growing up I always knew I wanted to work with animals. For over a decade I have worked in various aspects of the veterinary field ranging from small animal practice to emergency medicine. I have trained graduates of veterinary technician programs from Apollo, Kaplan, MCC and Pima to help them gain real world experience in their externships.
I have continued my education by taking courses in anesthesia, cardiology, emergency medicine and dentistry to help improve my teaching and nursing skills. I strongly believe in the phrase "Treating your Pet Like it is My Own" and that is what landed me here at Seville Veterinary Hospital.
As an advocate for animals big and small, I am excited that I work for my pets' Veterinarian. I understand the bond we form with our pets as I currently have 2 Brussels Griffons (Duncan and George), 1 Shitzu (Logan), 1 Jack Russell (Furgi) and my most recent addition to the pack (Monroe) a Yorki-Poo.