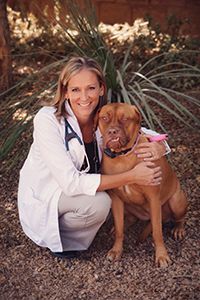 Not many people can say they ended in the career that they always dreamed of – but Dr. Bronz is one of them. As a second grader, in a small town in Michigan, she wrote a "story" for a school assignment entitled "What I Want to Be When I Grow Up". Her story ended with her loving on doggies and kitties as their doctor. Although she's certain there was misspelling of the word in that story, Dr. Bronz was destined to fulfill her dream as a Veterinarian.
She graduated from a high school in Michigan with still the same aspirations. Because of her vision and determination, she was able to complete her undergraduate program at Michigan State University in just 3 years. After receiving her acceptance letter at the College of Veterinary Medicine at Michigan State, Dr. Bronz was ready to live her dream.
She graduated from Veterinary School in May 2003 and decided sunshine and warm weather was where she wanted to live and practice. She worked as an Associate Veterinarian in Mesa, AZ for nearly 9 years then decided to move her work and love for pets in South Gilbert.
Dr. Bronz opening her own Veterinary Hospital in January 2012 with the same vision and love for animals she had as a little girl. She prides herself on having a very laid-back, calm and family-oriented environment to make her clients and pets feel as comfortable and stress-free as possible. She understands the importance of high-quality veterinary medicine and how it builds and maintains the incredible human-animal-bond. Her special interests are internal medicine, ultrasonography, soft tissue surgery and advanced dentistry.
Dr. Bronz has been happily married to Jeff for 7 years. They have a 4 year old daughter, Madison, and a 1 year old son, Dylan. Their home is ruled by their 8 year old dog, "Moose", 8 year old cat, "Stoli" and mostly by their 5 year old cat, "Gertrude".
"I am one of those very rare people in the world who say they LOVE to go to work every day. There are very few things more gratifying than sending a pet home to their families feeling well again, watching my patients enter their senior years still acting as youngsters and having an owner hug me and tell me "thank you". I am grateful for this profession and wonderful families I meet every day." – Jill Bronz, DVM