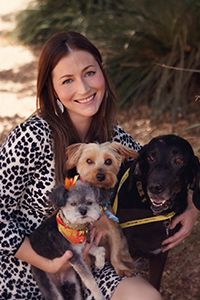 Originally from North Dakota, Dr. Alani Selland grew up no stranger to animals. She started as a young kid wanting to work with animals for the rest of her life. She attended Concordia College in Moorhead, Minnesota. Here she graduated with dual degrees in Biology and Chemistry. Still her goal was to become a Veterinarian. She was accepted to the Veterinary Medical Program at University of Minnesota and completed her Doctorate in Veterinary Medicine in '07.
For the first 2 years after graduation, Dr. Selland practiced as an Equine Veterinarian in Colorado and Texas. She enjoy her time spent with these gentle giants but still had a strong desire to be involved in the treatment of small animals. She had a special interest in small animal emergency medicine. This special interest in emergency medicine and her need to escape the cold weather brought her to Tucson, Arizona. Here she joined a 24-hr emergency and general practice. She enjoyed working as an ER doctor for nearly a year in Tucson. Then Dr. Selland met Aaron (her now husband) and decided to move to the Phoenix area to live with him.
From 2011-2013 she worked at a general medicine veterinary hospital in Mesa, AZ. It was here that Dr. Selland and Dr. Bronz met. Dr. Selland joined Seville Veterinary Hospital because she believes general small animal practice offers both the intellectual challenge of medical and surgical cases while allowing her to develop a strong bond with both patients and clients. Dr. Selland cherishes the relationship that develops between her, her patients, and her clients. Her personality, compassion and gentle touch are what make her the "right fit" to the Team at SVH. She's learned so much about the wonderful clients and patients that visit SVH and is very excited to become a member of this unique and kindhearted team.
Dr. Selland lives in Chandler, AZ with her husband, 3 dogs and 2 cats. She has a hound mix "Watson", a tiny poodle "Portia", a yorkie-mix "Oliver", along with two cats, "Tres" and "Suzi". Her hobbies are horseback riding hiking and running.